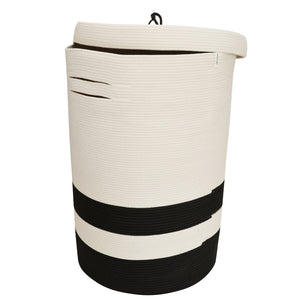 Handcrafted design from Stellenbosch, South Africa 🇿🇦
Please note that all our products are handcrafted and variances may occur. No two products will be exactly the same.
Ready for shipping in 5 to 7 business days.
Our products are handmade to order.
Please check the dimensions before placing your order.
This basket is derived from the original Verona Basket in grey. This Verona Basket is a custom design handcrafted by the very talented Verona. Verona is the daughter of Bonita. Bonita used to be part of our team but sadly passed away in September 2018, leaving behind Verona, her two younger brothers and a grandson. In the beginning of 2019 Verona came to ask if her mother's position was still available. She was working at a liquor store earning below minimum wage and was struggling to provide for her baby boy. Verona had never in her life even touched a sewing machine! But she learned very quickly and soon became one of our best hand crafters. She is always willing to learn and try new things and always puts herself second in all situations. Verona is very loyal towards Mia Mélange and we wish to have her on our team for the rest of her life. Her two younger brothers have moved in with her and she takes care of them in the most responsible way. She is a WONDER WOMAN and we love her to bits!
This large lidded basket is perfect to use as a laundry basket, or for storing homeware items such as blankets, towels or scatter cushions. It is taller than our standard size baskets.
Mia Mélange baskets are made from 100% cotton rope which we carefully sew together in a coiling technique. The cotton is grown locally in South Africa by farmers who are members of the Better Cotton Initiative (BCI). The black rope is South African sourced multifilament polypropylene which is more durable.
Please note that this basket is handcrafted and variances may occur.
Approximate Size:
Extra-Large: D 40cm x H 60cm (D 16in x H 24in)
SKU:
BSK12723PPR-XT
Prices quoted in ZAR are only valid for shipping in South Africa. For international orders paid for in ZAR, a shipping fee will be applied after the order has been placed. International prices exclude duties and taxes that may be payable.
Click Here for Product Care Instructions